There are few names in the culinary world bigger than French chef and author Jacques Pépin.
Pépin's culinary career includes a number of remarkable achievements. He has worked at some of the top French restaurants in Paris and New York, was a personal chef for former French president Charles de Gaulle, turned down a similar offer to be the personal White House chef for President John F. Kennedy, was a longtime friend of American chef and television personality Julia Child, and has authored more than 30 cookbooks, many of them bestsellers.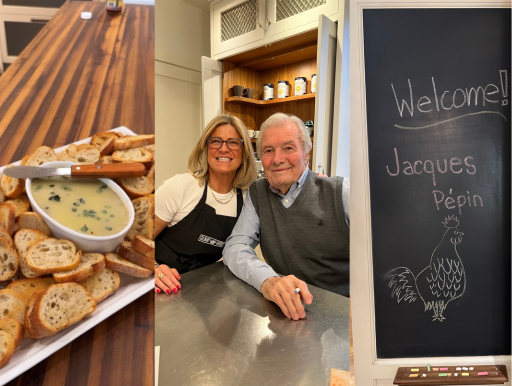 So when I tell you I was excited to host Pépin recently at our Culinary Works showroom in Stamford, you have no idea what a big thrill it was for me.
Pépin joined me to sign copies of his latest book, Art of the Chicken, speak about his legendary career and accomplishments with members of my team and our families, and enjoy hors' d'oeuvres and my own recipe for chicken soup.
Listening to Jacques speak about some of his life experiences and pick his brain about his cooking techniques and the many amazing mentors that molded his career was the culmination of an amazing few hours and something I'll remember for the rest of my life.
We tried to record as much of his visit as possible. You can listen to Pépin's entire talk by clicking here or you can watch some of the behind-the-scenes footage we filmed by clicking here.