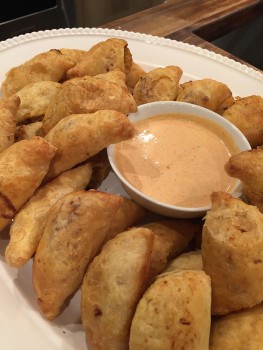 1 package fresh ground chicken (16oz)
1 package raw chorizo sausage – removed from casing
1 (8-ounce) package shredded Cheddar Jack cheese blend (or whatever you have)
1 large onion, chopped small
1 jalapeno, seeded and chopped
2 teaspoons ground chili powder
1 teaspoons cumin
1 teaspoon oregano – dried
1 1/2 teaspoons salt
pepper
1 (15-ounce) package refrigerated puff pastry
Water
Milk
Preheat oven to 400 degrees F.
In a skillet, sauté your chicken and sausage, breaking it up into small pieces, using a potato masher helps. Season with salt and pepper. Once well cooked, add your onion, garlic, spices and chopped jalapeño. Cool slightly and combine in a bowl with your cheese. Let the mixture cool in the refrigerator.
Unroll 1 de-thawed pastry sheet onto a lightly floured surface. Roll into a larger rectangle. Cut out rounds, using a 3-inch cookie cutter. Re-roll dough as needed. Repeat procedure with remaining pastry. Lightly brush the edges of the crust with water. Place 1 heaping teaspoon of chicken chorizo mixture in the center of the round. Fold the dough over the filling, pressing the edges with a fork to seal. Repeat with the remaining rounds and chicken mixture. (Up to this point, the recipe can be made ahead and frozen for up to 1 month). Arrange empanadas on the prepared baking sheet. Brush the tops and sides of the empanadas with milk or cream and bake for 15 minutes.
Chipotle Dipping Sauce
2-3 tablespoons Chipotle Puree
1/2 cup mayonnaise, sour cream or yogurt
1 teaspoon lime juice
1 lime zested
Combine all above ingredients well with a whisk and serve with empanadas.