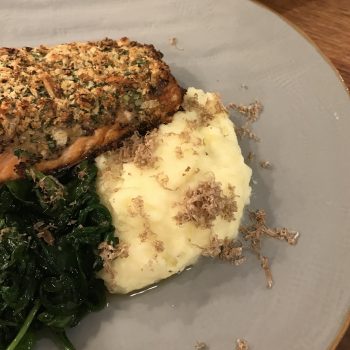 4-6 King Salmon filets 4-6 oz. each
2 tbsp Dijon mustard
1 tbsp Whole grain mustard
3 tbsp Mayonnaise
4 Scallions, chopped fine
1 tbsp chopped parsley
3 cups fresh breadcrumbs, made from a fresh loaf of bread
3-4 tbsp fresh horseradish
Salt and pepper
Mix together mustard, mayonnaise, scallions, and parsley in a small bowl. Tear apart your bread and pulse it in a food processor to a coarse size consistency.
Lightly mix together your breadcrumbs with the horseradish, place aside.
Place salmon on baking sheet, season with salt and pepper. Coat each piece of salmon with the mayo mustard mixture. Then coat each piece with the breadcrumb/horseradish mixture. Pushing it down lightly.
Bake at 400 degrees for 10-12 minutes depending on the size of your filets. To check for doneness, insert a sharp knife into the thickest part of the salmon and hold it for 7-8 seconds, remove it and feel the temperature of the knife, if it is warm then it is medium, if it is cold then it is rare and so forth.