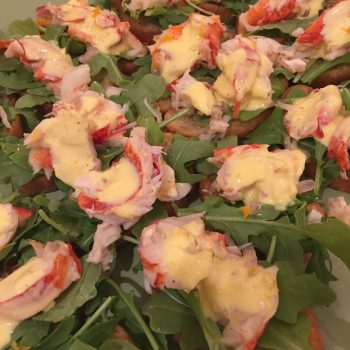 Prepared bread toasts / croutons
Defrosted frozen or fresh lobster 1.5 lbs
Arugula
1 large chopped shallot
Orange juice
Olive Oil
Salt and pepper
In a bowl lightly combine lobster with shallots, a dash of orange juice, salt, pepper and a dash of olive oil. Taste for proper amount of seasoning. Top each bread slice with Arugula, Lobster and dollop of Saffron Aioli. Serve immediately!
Orange Saffron Aioli
1 teaspoon water
1/2 teaspoon crumbled saffron threads
2/3 cup mayonnaise
1 tablespoon extra-virgin olive oil
Zest from 1/2 an orange
2 teaspoons fresh orange juice
1 large garlic clove, minced very fine
Salt & Pepper
Heat 1 teaspoon water to hot; pour into a small bowl, add saffron, cover and let steep 15 minutes. In a bowl add, saffron (every little drop), mayonnaise, olive oil, orange juice, zest, and garlic. Add salt and pepper to taste. (Aioli can be made 2 days ahead. Cover; chill.) Taste for seasonings.
Raw Egg version
1 large orange
Pinch saffron, threads crumbled
2 large cloves garlic, roughly chopped or grated
1 tsp. Dijon mustard
1 large egg yolk
1/2 cup extra-virgin olive oil
1/2 cup other oil; more as needed
Kosher salt
Finely grate the zest from half the orange and then juice the orange. Put 1-1/2 Tbs. of the juice in a small bowl along with the saffron, and let sit for 10 minutes.
In a food processor, combine the saffron mixture, orange zest, garlic, and mustard and pulse until the garlic is puréed, about 15 seconds. Add the egg yolk and process for 10 seconds. With the machine running, slowly pour the olive oil and nuetral oil through the feed tube until the sauce is thick and well combined. (If you like a thicker texture, add a little more oil.) Season to taste with salt.
Refrigerate the aïoli for at least 2 hours to let the flavors marry.
The aïoli will keep for 1 week+ in the refrigerator.