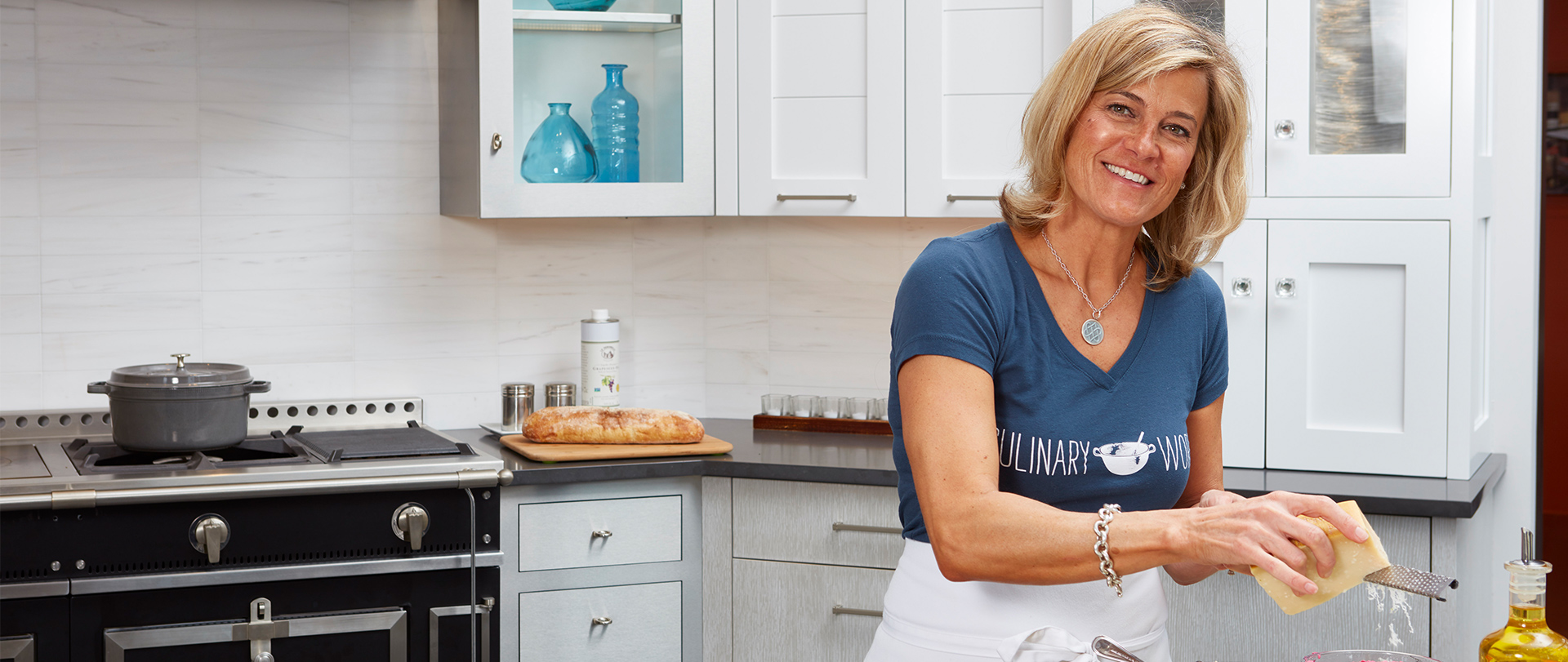 CORPORATE EVENTS
COOK, BOND, AND SHARE DELICIOUS FOOD TOGETHER
CORPORATE COOKING EVENTS
With over 16 years of experience, Culinary Works has perfected the recipe for truly memorable corporate team building activities. Our hands-on cooking classes encourage team bonding and improve communication in a relaxed, informal setting – the perfect venue for mingling and natural conversation flow.
These events are perfect for internal team building or client entertaining in a dynamic, social experience. The kitchen is a familiar environment for all participants to feel comfortable and happy. We work with any type of group from – executives, small groups, small companies, management teams, sales, marketing, human resources, any group that is ready to cook, create, bond and share delicious food together.
Our menu collection features fresh seasonal ingredients to suit your event. Learn new knife skills, how to properly sear, properly season, and even hone your grilling skills. All while together as a team you are communicating, laughing, eating great food, and creating an experience to last a lifetime.
HOLIDAY MENUS
Please note that these menu options are an additional $10 per person.
*supplemental charges may apply
GF – Gluten Free
V – Vegetarian
WHAT OUR CLIENTS ARE SAYING
Julia, Katherine and the CW Crew - Thank you so very much for the FLAWLESS event you crafted for us last night. Our company personnel and clients alike could not stop raving about the food, the fun cooking instruction and the overall "casual, fun vibe" of the night. You and your crew were so professional and upbeat, and kept the night flowing along at a good pace. It was our first event with you and will clearly not be our last. Thank you again for such a successful evening! Sincerely, NS Capital LLC, Stamford, CT

NS Capital LLC

My team LOVED, LOVED, LOVED last night!  Thank you for making it so fun and special.  I cannot believe I underestimated the alcohol! I look forward to future team events, which I will be participating in!  This looks amazingly fun, I completely missed out.

Datto

Hello Julia, Thank you again for such a wonderful evening. We've received rave reviews for both the experience as well as the food. You and your team did an outstanding job! Thank you. We're looking forward to receiving the photos and recipes! Kind Regards, Carol L. Hammer

Chief of Staff Xerox Corporation

Had a corporate event with Culinary Works. It was a blast. We all had a blast, learned something and ate some great food. Highly recommended!

We all had a really good time and your team was excellent. They made us feel very comfortable (even for those of us who are less comfortable in the kitchen!) and encouraged a fun atmosphere.

Broder & Orland LLC

Thank you so much for a fun evening at Culinary Works; I have been getting compliments all morning! It was the perfect team-building night and the food was outstanding. Please send our appreciation to Wanda, James and Evelyn as well. They were warm & welcoming and so helpful to our Shoreline crew.

Shoreline Pools

Thank you so much for such a great event last night. The team loved preparing the food, receiving lessons on proper kitchen techniques, and most importantly - the food! Wanda and you really helped create such a wonderful team experience. We are looking forward to receiving the recipes so we can try and recreate them.

Indeed
ABOUT OUR CORPORATE EVENTS
Location: DEANE, Inc. Stamford (conveniently located off I-95 exit 9)
Flexible start time (daytime or evening!)
We use top quality appliances and tools from Sub Zero, Wolf, La Cornue, Wusthof knives, and All-Clad cookware
Groups are broken up into roughly 3-5 person teams, based off total attendance
Events last approximately last 3-4 hours
The event format is hands-on, very casual, dynamic and social
We can work with dietary restrictions as needed.
We have the ability to use multiple cooking stations for larger groups
We can provide wine tastings from Scout & Cellars, perfectly paired with your event's menu.
Guest hosts can provide their own alcoholic beverages
We provide aprons to use during the event, along with food and non-alcoholic beverages
After the event, each guest will be provided with a digital recipe packet and photo portfolio
RESERVE YOUR CORPORATE EVENT NOW!
CORPORATE CLASS DEPOSIT
All deposits are non-refundable.