CREATE AN UNFORGETTABLE EVENT WITH US
"It's all in the experience"
Private Cooking Parties
Once again the party is in the kitchen, the action, the smells, the food, and the laughter – a Private Event with Culinary Works. Our kitchen is yours and our goal is to create a fun night for everyone, to improve their cooking skills and try out new recipes.
Choose from our Current Private Event Menus below or our Previous Menu Collections. Alternatively, we can create a custom menu together! Our Private Cooking Parties are hands-on, we focus on cooking techniques (pan-searing, sautéing, grilling, seasoning) and knife skills (how to chop an onion, garlic). All designed to make you a better cook in the kitchen with simple tips and tricks. If you want to socialize with your friends, eat great food, and earn new kitchen knowledge then we have the perfect recipe for you.
Private Events
You invite the guests, whether it is friends, family, neighbors, or a combination, an entertaining evening of cooking, dining, and laughing is in store for you. We host parties for birthdays, book clubs, showers, social groups, non-profits, preschools, or charity organizations. With our help, the showroom will be yours to enjoy and create an unforgettable event.
Location: DEANE, Inc. Stamford (conveniently located off I-95 exit 9)
Flexible start time (daytime or evening!)
8 person min Mon-Thurs/10 person min Fri-Sun
We use top quality appliances and tools from Sub Zero, Wolf, La Cornue, Wusthof knives, and All-Clad cookware
Events approximately last 3-4 hours
The event format is hands-on, very casual, fun, and social
We can work with dietary restrictions as needed
We have the ability to use multiple cooking stations for larger groups
Guest hosts can provide their own alcoholic beverages
We provide aprons to use during the event, along with the food and non-alcoholic beverages
After the event, each guest will be provided with a digital recipe packet and photo portfolio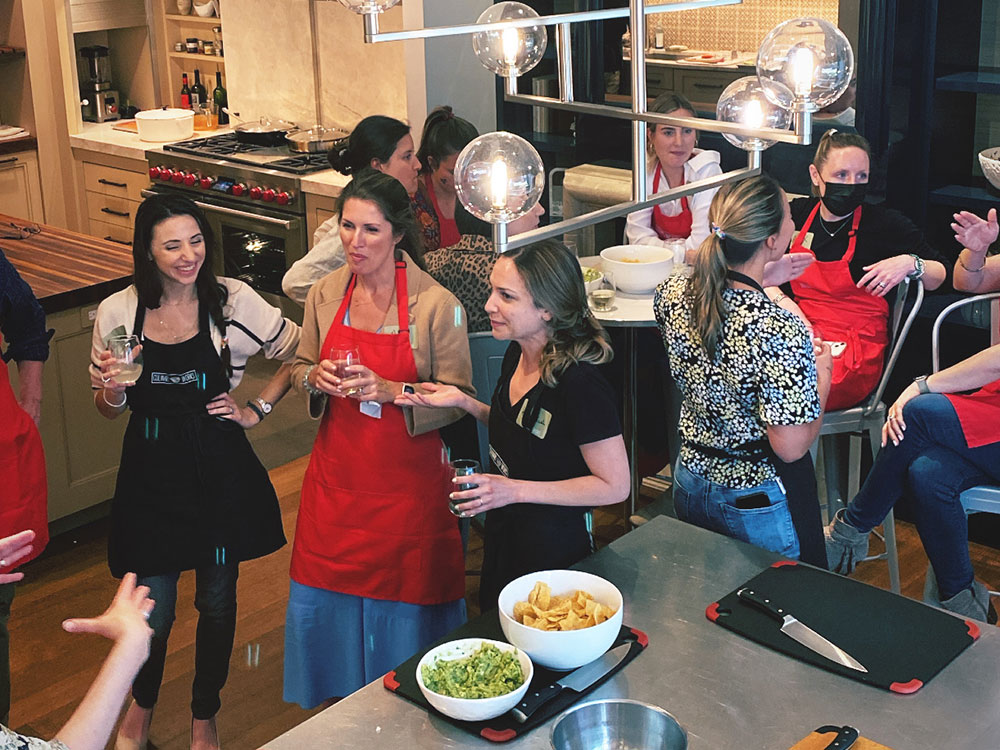 Butternut Squash & Apple Fritters with Spicy Maple Crema
Steak Crostini with Culinary Works Sauce & Blue Cheese Butter
Spinach, Kale, Apple Salad with Pepitas & Glazed Pecans
Spiced Maple Glazed Salmon on Cedar Plank
Butternut Squash Risotto
Apple & Pear Crisp with Cinnamon Whipped Cream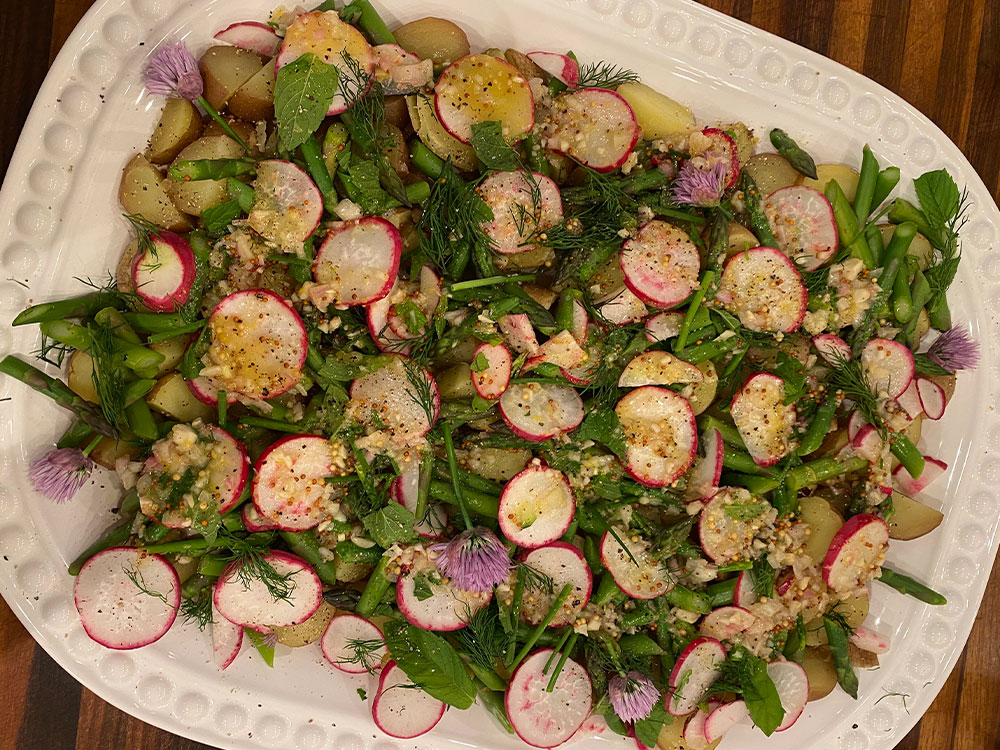 What People Are Saying
Everybody had a fantastic time! Its such a different type of corporate event that fuses team building, collaboration, communication, and great food/wine in a very comfortable and casual setting. Nothing but 5 stars from our team!

- Jason W.
What a fun evening!  I wasn't even home yet and I was getting texts about what a special night it was.  There was a lot of great chemistry and Julia, you really know how to whip a group into shape! And, the food was amazing.  I am still thinking about that risotto and the berry cobbler! My dream of being at one of your cooking events came true, LOL. I know that everyone enjoyed the evening and your staff was wonderful.

- Roberta M.
Thank you so much! Everyone really had a blast and we've gotten amazing feedback from the participants. It was also really wonderful that everyone with an allergy was able to fully participate and eat all of the courses. We can't wait to host another event with you!!!

- Lauren H.
I just want to say how grateful I am to you, James and Francisco for such an amazing event for our students and caregivers. They had such an AMAZING time, and are still talking about it to this day. We couldn't offer programming such as these without amazing partners like you, so thank you!

- Nehemie Y.
We had such a blast!! You and James were such a pleasure. Thank you so much for making our night so fun.

- Sue B.