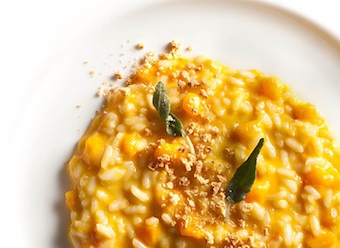 One 3-pound pumpkin or squash (or use 1.5 cups of canned pumpkin or squash puree)
1 quart chicken or vegetable broth
1/2 cup extra virgin olive oil
1 medium yellow onion, minced
10 ounces (1 1/2 cups) Arborio rice
1/2 cup unsalted butter, cubed
3/4 cup grated Parmesean
Kosher salt and coarsely ground black pepper, as needed
Sage leaves as needed (optional) – whole leaves, pan fried in butter
Crumbled amaretti cookies (optional)
Cut the pumpkin or squash in half and season with salt, pepper and olive oil. Roast for 20-30 minutes, check at 20 minutes until nicely softened. When cool, discard seeds and strings, then remove from flesh into a bowl. Mix the pumpkin in a bowl until well combined and creamy, some lumps are okay.
Heat the broth over low heat; keep warm.
Heat the oil in a large pot over low heat. Add the onion and cook, stirring frequently, until tender and translucent, about 4 minutes, add 2 teaspoons chopped sage and continue to cook for a minute. Add the rice and toast lightly, stirring frequently, about 2 minutes.
Add enough of the broth to come 1/2 inch above the rice, and cook, stirring frequently to be sure the rice doesn't stick to the bottom. As the rice absorbs the broth, keep adding more, 1 cup at a time.
Once the rice has absorbed almost all the broth, and the grains are just tender (al dente), roughly 20 minutes. Add the pumpkin puree and stir well until combined. Remove from heat add the butter and cheese and stir vigorously until the risotto is creamy. Season with salt and pepper if necessary and serve immediately on flat plates.
Top the risotto with a few leaves of sage fried in butter and a sprinkling of crumbled amaretti cookies.