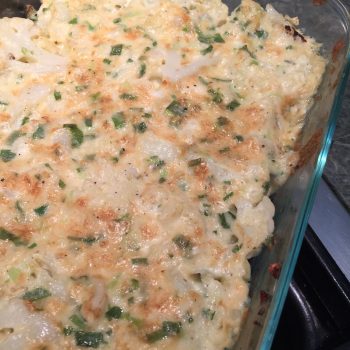 1 medium cauliflower
½ cup mayonnaise or whole milk Greek yogurt
1 teaspoon Dijon mustard
1-2 scallions, sliced and chopped
1 cup grated Gruyere Cheese (or whatever cheese matches your other dishes)
Preheat oven to 350º F.
Place cored cauliflower in large saucepan. Add enough water to cover bottom of pan by about 2 inches. Bring to a boil over medium heat, cover, and steam until fork tender, about 12 minutes. Drain; remove from saucepan and place cauliflower in a shallow baking dish.
Mix mayonnaise, mustard, salt, pepper, scallions, cheese in a small bowl until thoroughly mixed. Spoon over top and sides of cauliflower and place in oven. Bake until cheese is melted and bubbly, about 5-8 minutes.
You can toast ½ cup of breadcrumbs for the topping and broil until crisp.