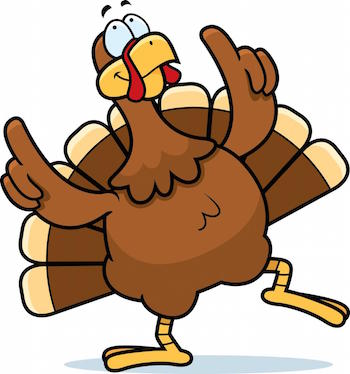 Happy Thanksgiving from Culinary Works
Top 10 Turkey Tips
Safely thaw your turkey in the refrigerator – this could take a few DAYS depending on the size of your bird. If you started to defrost too late – place bird in a large sink with a slow drip of cold water running over it.
Thaw uncovered overnight for crispy skin.
Brown the turkey giblets and trimmings in a hot oven or pan. Drain off the fat, and simmer the browned scraps with vegetables and herbs (an unpeeled onion stuck with a clove, a celery stalk, carrot, leek and turnip; thyme, parsley stems, peppercorns and a bay leaf) to make a rich stock. Use this broth for your gravy.
Purchase an instant read thermometer – range in price from $7 – $15 from a retail store or Amazon.
Before roasting, season the turkey with salt pepper, inside and out. Soak a cheesecloth in melted butter and a little white wine and lay it over the whole turkey before placing it in the oven. While cooking, every 45 minutes baste the turkey with the drippings, and add more of the wine/butter mixture on top of the cheesecloth. Eventually, the cheesecloth will look really dark brown. To remove it, just re-baste the whole cheesecloth to get it moist and peel it off to reveal the most shiny, juicy, crispy skin of all time.
Do not pack the turkey tight with stuffing, it needs room to expand.
Place turkey on a rack or on criss-crossed whole carrots and celery in your roasting pan. Add a few cups of broth, water, wine combination. to your roasting pan to prevent the bottom from burning, use this for occasional basting and strain it for your gravy.
Remove the turkey from the oven and using your instant-read thermometer to determine temperature; it should read 165 degrees F at the thigh when it's done. If you stuff your turkey, check the internal temperature of the stuffing as well; it should be at least 165 degrees.
Use your turkey carcass to make broth for my Turkey Wild Rice & Bourbon Soup.
REST REST REST – when you remove your turkey from the oven, let it rest uncovered (covered it will keep cooking) for at least 40 minutes. The resting will allow the juices to redistribute through the meat and it will allow for smoother carving.