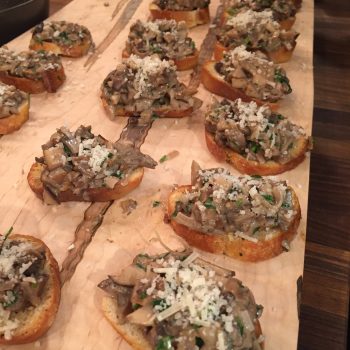 1 french baguette
¼ cup olive oil
2 tablespoons butter or olive oil
3 small shallots, finely chopped
2 pounds mixed wild mushrooms, cleaned and chopped (chanterelles, shiitake, crimini, etc.)
½ tablespoon fresh or ½ teaspoon dried thyme
salt and pepper
1/3 cup Marsala wine
¼ cup chopped Italian parsley
¼ cup heavy cream
Truffle Oil
Asiago Cheese
Slice the baguette on the diagonal into 1/2 inch thick pieces (depending on the size of your baguette, you should end up with 15 to 20 slices.) Pour the olive oil into a small bowl. Using a pastry brush, brush each slice of bread lightly on both sides with the olive oil and season with salt and pepper. ALTERNATIVELY, drizzle the bread pieces with olive oil, then season with salt and pepper. Place the slices one layer thick on a baking sheet. Toast in a 375 degree oven for 10-12 minutes, depending on how fresh the bread is to start. Set aside to cool on cooling racks.
Heat the butter or olive oil over medium heat in a large, heavy skillet. Add the shallots and cook, stirring occasionally, until softened (about 2 minutes.) Stir in the mushrooms and thyme, season with salt and pepper. Cook until the liquid from the mushrooms is mostly evaporated and the mixture is starting to brown (about 8-12 minutes.) Add the marsala wine and cook, stirring frequently, until the liquid is evaporated. (if the liquid doesn't seem to be evaporating after about 5 minutes, turn the heat up a bit and continue cooking.) Stir in the parsley and the cream. Let the mixture simmer until it thickens. Taste for salt and pepper.
Top each crostini with a generous spoonful of the mushrooms. Drizzle each crostini with truffle oil and Asiago shavings. Serve the crostini on a platter sprinkled with leftover parsley.
Makes 15 to 20 crostini