INGREDIENTS
Mediterranean Herb Sauce
2 large garlic cloves, minced
1 teaspoon (or more) salt
1/2 teaspoon (or more) black pepper
1/2 teaspoon dried crushed red pepper
2 teaspoon (packed) grated lemon peel
3 1/2 tablespoons fresh lemon juice
3/4 cup extra-virgin olive oil
3/4 cup (packed) chopped Italian parsley
1/4 cup chopped fresh oregano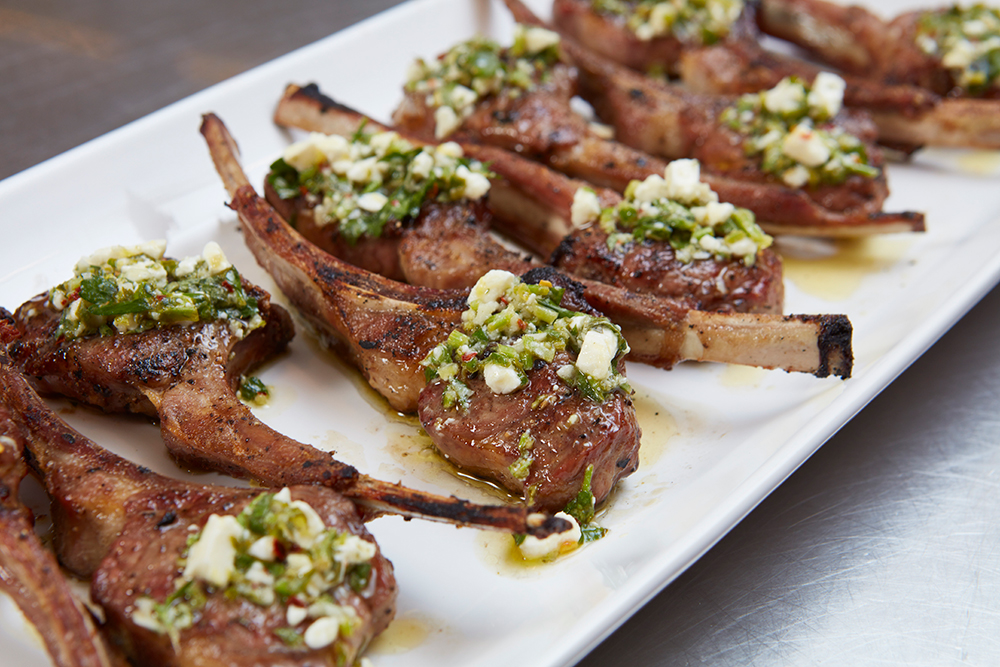 DIRECTIONS
Mediterranean Herb Sauce
Mix all ingredients in small bowl or puree in a food processor. Taste and season with more salt and pepper, if desired.
Cover; chill. Bring to room temperature and re-whisk before using. (Can be made 6 hours ahead)
You can also mix this in a blender, it would be creamy and not chunky.
OPTIONAL – mix in a little feta cheese with the sauce to put on top of the lamb.
Lamb Chops
Season the lamb generously with salt and pepper. Let sit at room temp for a 1/2 hour before cooking.
On a hot grill, cook the lamb chops 2-3 minutes per side for medium rare. Or, broil 2nd rack from the top for 2-3 minutes for medium rare turning over for 1-2 minutes.
Serve right away with a dollop of sauce on top.
1-2 per person appetizer