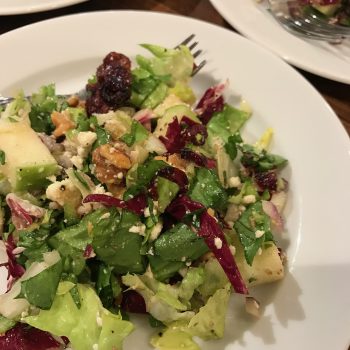 Dressing Ingredients:
2/3 cup extra virgin olive oil
1/3 cup white wine or champagne vinegar
1/4 cup maple syrup
1 tablespoons Dijon mustard
1 teaspoon chili powder
1 garlic clove, minced
1 large shallot – chopped fine
Salt & Pepper
Directions:
In a jar with a tight-fitting lid, combine all ingredients; shake well. Store in the refrigerator. Shake very well before serving.
Salad Ingredients
1 head Escarole – washed and chopped small 1/2-1 wide inch slivers
1 large head radicchio – sliced thin slivers
2-3 Granny smith Apples – chopped small 1/2 in x 1/2 roughly
1 cup cranberries
1/2 small red onion, chopped
Nuts – toasted – Pecans and or Walnuts – Pepitas – sunflower seeds
Queso Fresco or Feta crumbles
Toast your nuts or seeds in hot oven, check after 6 minutes, do not burn, and do not walk away, set a timer. Let cool.
Make sure all other ingredients are chopped and ready.
NOTE – this is a forgiving recipe, if you have more of one and less of another, its ok. Chopped bacon would also be a nice addition. Or Quinoa, basically you are not limited to what is on this paper.
Add all ingredients to bowl, season with salt and pepper; toss dressing lightly at first and then more if needed. Toss cheese at end, however much you want, but do not let it overpower.