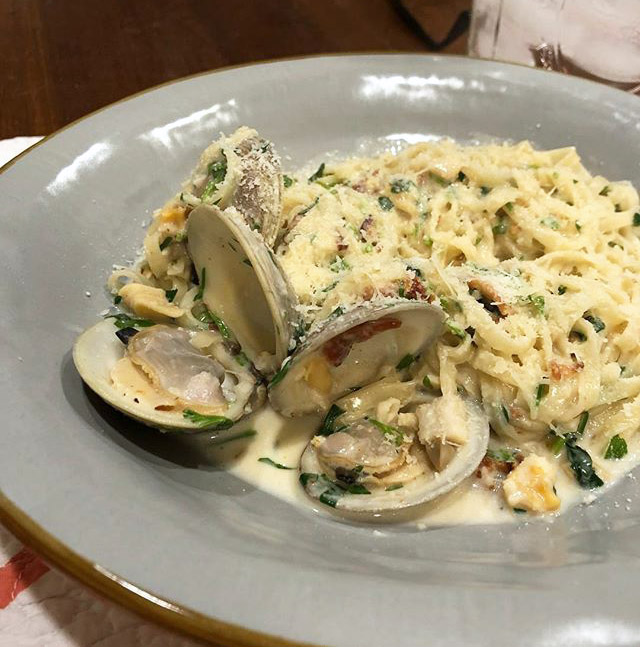 Ingredients
1/4 lb. bacon cut into small strips
6 garlic cloves, finely chopped
1/2 teaspoon dried hot red pepper flakes
1/2 cup dry white wine
1/2 cup bottled clam juice
1 lb. linguine fini – Barilla
16 hardshell littleneck clams, scrubbed and cleaned
1/2 pint fresh chopped clams
1/3 cup heavy cream
1/2 cup chopped fresh flat-leaf parsley
1/4 cup fresh Parmesan cheese – optional
Accompaniments: extra-virgin olive oil for drizzling; dried hot red pepper flakes
Directions
Heat your largest sauté pan over medium high heat, add bacon and cook until almost brown. Add garlic and red pepper flakes, stirring occasionally for 1-2 minutes until garlic is fragrant. Take care not to burn the garlic. If it does burn, start over. Keeping the pan uncovered, stir in the wine and clam juice and bring to boil. Stir occasionally for 3-4 minutes until reduced by half.
Cook pasta in a 6- to 8-quart pot of boiling salted water until al dente. Reserve 1 cup of the starchy pasta broth before draining.
While pasta is cooking, stir whole clams into sauce, cover, and simmer for 2 minutes. Then add chopped clams and re-cover until clams open. Turn heat down to low, add pasta and parsley and stir until well combined.  Add some cream and pasta water a little at a time to help to bring it all together, adding more as needed. Discard clams that have not opened after 6 minutes.
Remove from heat and stir in Parmesan cheese. Serve hot!