These classes are a great way to warm up the soul when it's cold outside and will feature some holiday favorites, plenty of comfort food, cultural recipes, and an entertaining platter that will make an international statement.
Don't wait to sign up because these classes usually fill up in a hurry. Bring a friend, your spouse or partner, or round up some family members for a few hours of cooking tips and an amazing, soul-satisfying selection of some of my best recipes.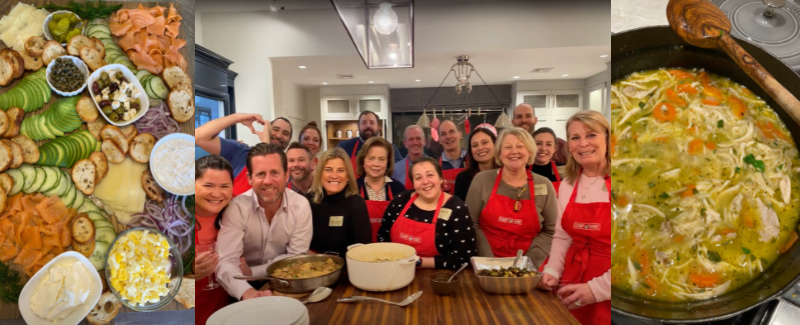 The cost of each class is $125 per person. Here's what we'll be preparing. Can't wait to see you there!
DATE NIGHT: VALENTINE'S DAY
Tuesday, February 14, 6:30 p.m.
What's on the menu: Roasted shrimp with Italian salsa verde; mixed salad greens with roasted beets and goat cheese coins; braised beef ragu; rosemary scallion crusted salmon; baked cheddar cheese mashed potatoes; roasted carrots with honey and thyme; molten chocolate cakes with vanilla ice cream.
WINTER COMFORT: SOUPS, STEWS, & BREAD
Thursday, February 16, 6:30 p.m.
What's on the menu: Herby lemon chicken orzo soup; savory cheese and chive bread; green chicken chili with tortilla chips and fixings; roasted tomato soup with fancy grilled cheese sandwiches; berry mousse.
BRUNCH BOARD SPECTACULAR
Sunday, March 5, 10:30 a.m.
What's on the menu: Blinis with smoked salmon and dill; assorted breads and crackers; deviled and soft-boiled eggs; fresh blanched veggies; baby potato salad; gravlax and Swedish dill sauce; labneh with za'atar; fresh fruit; charcuterie meats and cheeses.
DATE NIGHT: ST. PATRICK'S DAY PRE-GAME
Friday, March 10, 6:30 p.m.
What's on the menu: Cheddar and ale soup; corned beef sliders with sauerkraut and Russian dressing; seared salmon with colcannon; honey-glazed carrots and parsnips; Irish soda bread; Irish Coffee.
WINTER MEXICAN COMFORT FOOD
Friday, March 24, 6:30 p.m.
What's on the menu: Guacamole trio (mango habanero, blue cheese bacon, chipotle corn and cotija); iron skillet queso fundido; chicken and kale tacos; beef birria tacos; Mexican chop salad; coconut macaroons with spiced cinnamon chocolate ganache.