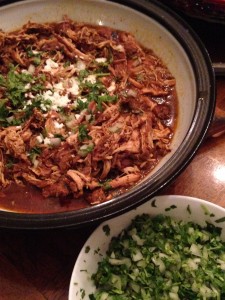 1 tablespoon of cooking oil – preferable regular olive oil
4 lbs boneless, skinless chicken breasts or thighs – trimmed
salt
1 tablespoon ground cumin
2 tablespoons chile powder
1 tablespoon dried oregano
1 teaspoon garlic powder
1 large onion, sliced
2 tablespoons tomato paste
15 oz. can of diced tomatoes
1-2 cups water or chicken broth
Heat a large saucepan or pot over medium high heat and add in the cooking oil, enough to cover the bottom of pan. Combine the spices in a bowl. Season the chicken with salt and then generously with the spice mixture. You may have some left over. Thats ok. Carefully place the chicken pieces one at a time into the hot pan and let it sizzle for 2-3 minutes on each side or until it's browned nicely. You may need to add it in batches, do not over crowd the chicken while browning. The idea is not to cook it, but to sear the outside, give it some good color, which will, give it good flavor!!
Remove the chicken to slow cooker or side plate, if using pot. Go ahead and add your onions, maybe some more oil if the pan is dry. Cook the onions until you can scrape up the bottom of the pan and release all of the browning on the bottom of the pan. Once onions are softened and pan looks clean, add your tomato paste, mix that well, add chicken, tomatoes, and broth. You want the broth to mostly cover the chicken, thats it. Same for slow cooker. You don't want the liquid to come up too high, or it will be soupy.
Cook on low for 4-6 hours in slow cooker. Of place your pot in the over at 300 degrees and cook for 1-2 hours. Taste it for seasoning and it should be falling apart. Use it with hot tortillas, with rice, in a burrito, enchiladas.
Topping
Roughly chop 1/2 a large onion
Roughly chop 1/2 bunch of cilantro
Combine these two together in a bowl and serve on top of chicken for some added punch and crunch.