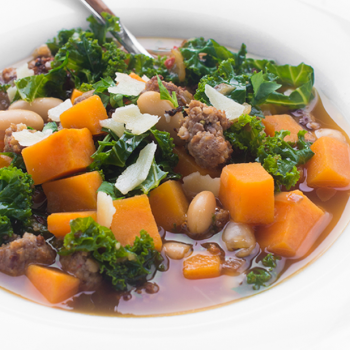 4 Italian turkey sausage links (spicy or sweet) – uncooked
1 medium onion – diced
2 garlic cloves – grated
1 red pepper – seeded and diced
8 cups chicken broth – low sodium or homemade
3 cups butternut squash – peeled and cut in ½ in. cubes
4 cups kale – roughly chopped
14 oz Cannellini beans – drained and rinsed
salt and pepper to taste
Parmesan Cheese – optional garnish
Remove sausage from casings. Heat a large soup pot over medium-high heat and coat with olive oil. Once hot, add sausage and brown it well, using a potato masher or wooden spoon to break into bite-sized pieces.
Add diced onion, red pepper and garlic to pan, season with salt and pepper and cook until softened, about 5-6 minutes. Once softened, add a touch of broth to scrape up all of the delicious brown bits. Add the remaining broth, butternut squash, raise heat, bring to a boil and cook for 15-20 minutes at a medium low until the squash is softened. Five or 10 minutes before serving, add kale and beans. Season with salt and pepper to taste and serve with freshly grated Parmesan cheese if you wish.
NOTES
When browning the sausage, don't be afraid of a little color! The longer it browns, the more it caramelizes which means more flavor when you deglaze the pan with chicken broth. The amount of salt needed will vary depending on the brand of sausage, chicken broth and beans that you use so season accordingly. If you buy precut squash, just make sure the pieces are relatively the same size, so they cook evenly.